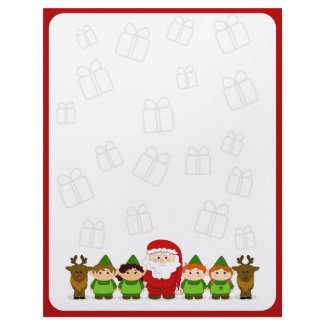 What kind of paper do you use for your annual Christmas letter? Many people shop for holiday letterhead online and pick the first paper they see with cute artwork. But the background design that looks so appealing online may not be so practical once you actually start printing. Picking Christmas letter paper doesn't require a Ph.D., but if you're shopping online at a store offering user designs, these tips will help ensure you get paper that's practical as well as pretty.
1. Make sure there's enough room for your letter. Amateur designers sometimes get carried away with their stationery artwork and forget to leave enough room for text. Be sure to pick something that will give you enough space to put your entire family letter on one or two pages.
2. Choose a light-colored background. A dark background will make it difficult for people to read your Christmas letter. Most professionally designed letterhead available at office supply and stationery stores has a light background designed for easy readability, but watch out for dark or bright colors when shopping for letterhead designed from amateur art.
3. Pick a paper with a simple border. Unless you're comfortable creating multiple text boxes or manipulating tabs or indents in your word processing software, you'll want to choose Christmas stationery that has even borders, not a design that juts into the main writing area of the paper in multiple places. Best choices are letterheads with banners across the top or bottom, with a border design that has a similar width around the whole page, or with an image in one corner so you can format most of the text around it.
You may also want to try using Christmas letter templates, rather than preprinted stationery. Templates such as the ones we offer here allow you to create your annual holiday letter in a Word document that has already been set up for your text. So there's no guessing what the final product will look like when you print it on stationery from the store. See our Christmas letter templates here.