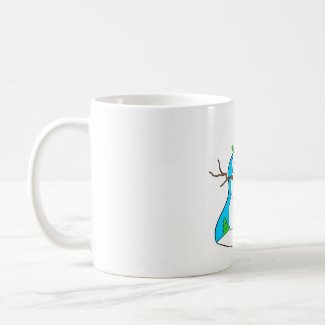 Do you need a quick, easy and inexpensive Christmas gift idea for someone on your holiday shopping list? Try Snowman Soup!
Although Snowman Soup is really nothing more than a pack of hot chocolate given with "snowman pieces" in a gift mug, the poem you attach makes it a fun gift for just about anyone, and you won't have to spend much money. You can pick up cheap mugs at the dollar store or splurge on a Snowman Soup mug online such as the one shown here. 
Here's a Snowman Soup "recipe" and poem. You can find other variations online, including this article: Snowman Soup Recipe and Poem.
Snowman Soup Recipe and Poem
Snowman Soup Recipe
Ingredients
1 pkg hot chocolate mix
2 Hershey's Kisses for the eyes
1 Hershey's Hugs for the nose
10-15 mini marshmallows for the snowballs
1 peppermint candy cane (alternate: cinnamon stick)
Directions
Place hot cocoa package, Hershey's Kisses, Hershey's Hugs and mini marshmallows in a plastic bag or cellophane wrap and put in the bottom of a mug. Put the candy cane stick inside or tape it to the outside of the mug. Then add one of the Snowman Soup poems. You can either tie it to the candy cane or stuff it inside the cup. That's it! You're done!