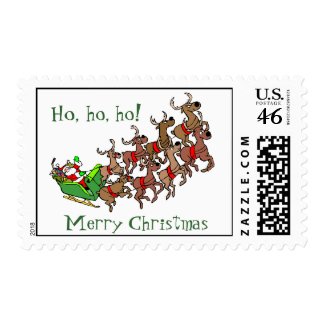 All post offices are busy during the Christmas holidays, as families and friends send Christmas cards and letters to one another. But few post offices are as busy as the one in Santa Claus, Indiana. Since 1983, this small post office has been offering Santa postmarks for holiday mail. Customers love this free service! During the holiday season, this normally slow post office, which processes about 13,000 pieces of mail a month during the rest of the year, is deluged with a blizzard of about half a million pieces of mail.
Santa Claus, Indiana, has been adding colorful picture postmarks featuring their namesake since 1983. There is a new postmark each year. The design is selected from an high school art contest. The winning design becomes that year's Santa Claus postmark.
A postal service press release says the Santa Claus postmark is one of the most popular holiday postmarks in the nation. (The one from North Pole, Alaska, is another favorite.) People drive hundreds of miles to get their Christmas mail stamped with the special postmarks, and the post office also receives letters and packages from all over the world.
If you'd like to get a Santa Claus postmark, the postmaster offers these tips for ensuring your holiday mail is properly processed:
– Apply the correct postage to cards or letters before bringing or mailing them to the post office;
– Allow at least a two-inch by four-inch space in the stamp area for the picture postmark;
– Do not send your mail too early – the Santa Claus picture postmark is only available in December;
– To ensure a good postmark imprint, please do not enclose large or bulky items in your holiday mail (i.e.; reindeer food, snow flakes, glitter, stickers, etc.);
– If you are requesting the picture postmark, please do not exceed the limit of 50 pieces of mail per person per day.
To get your holiday mail stamped with the special Santa Claus postmark, be sure to seal your cards or letters, affix proper postage and add a complete address. Then place them in a larger envelope or box and mail to:
Santa Claus Postmark
Postmaster
Santa Claus Station
Santa Claus, IN 47579-9998
Be sure to send your letters in time for the post office to process them. They should arrive in Santa Claus, Indiana no later than December 15 to ensure delivery by Christmas.